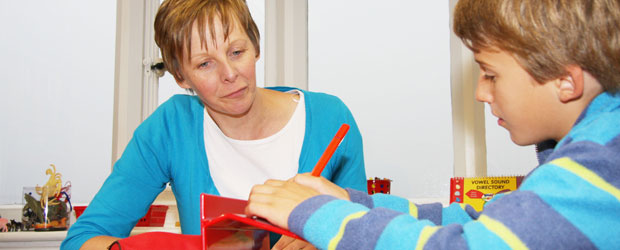 Occupational Therapy
Occupational therapy focuses upon a person's ability to carry out everyday tasks that are important to them. It covers three main areas: self-care (looking after yourself); productive activity (home and school based tasks); and play and leisure (things done for enjoyment). Occupational therapists are trained to assess a person's ability to carry out these tasks, to identify the underlying issues that are affecting those abilities, and to develop an intervention programme that focuses upon the development and achievement of the important functional skills.
Rhiannon Macpherson is an Occupational Therapist with a particular interest in children who have motor co-ordination difficulties (often known as developmental co-ordination disorder or dyspraxia). She qualified as an Occupational Therapist in 1994, and in 2006 gained a Masters degree in Health Science. She is now a senior lecturer in occupational therapy at Glyndwr University. She has 17 years experience of working in children's occupational therapy, including working in children's therapy teams in the USA and New Zealand as well as the UK.
Anna Booty is a highly skilled Occupational Therapist who qualified in 2001. She currently works part time as a children's occupational therapist for the Countess of Chester NHS foundation Trust and has 7 years experience of working in this area.
Rhiannon and Anna are able to offer in-depth assessments, targeting the difficulties that children might experience with everyday tasks, such as dressing, handwriting or riding a bike. Intervention aims to help children to achieve goals that are agreed with them and their families, while using an approach that is both fun and enabling. They place great emphasis upon empowering children and their families, so that they feel confident to continue developing the skills within the child's everyday life, away from therapy sessions.
Their work experience is varied and includes working with children, young people and their families with a wide range of functional difficulties. In addition, they have provided training and run workshops for parents, teachers and occupational therapists.
Rhiannon and Anna are both members of the British Association of Occupational Therapists and College of Occupational Therapists, and belong to the specialist sections for Children, Young People & Families and for Independent Practice. They are registered with the Health & Care Professions Council, and hold enhanced DBS disclosure (previously known as a CRB check).
Contact details

Rhiannon Macpherson
Occupational Therapist HCPC Registered
BSc (Hons), MSc, PGCPD (HE)


07951 447653


rhiannon@positiveleap.co.uk